International Hostel of Panjab University would now be COVID facility with 100 beds managed by WESTERN COMMAND
With No extra preparation or strategy, after the period of One year, Punjab Governor and Chandigarh Administrator His excellency, The Lord V P S Badnore appeared before the media and refused to take any questions but invited suggestions from Media and Political Parties. After holding a talk session with Political people, media personnel was to be addressed. Everyone was expecting something important to be announced by the Administrator but all hopes went in vain. As except the announcement of 100 bedded hospital in the International Hostel of Panjab University which would be handled by Western Command Doctors, the Administrator started talking to media people with a note, "Do not criticize, we are here not for your questions but your suggestions. The other states are praising our management, you should too and give suggestions".
He asserted a blazer after this note saying,"We are the only one who is giving Oximeter in the Corona Kits to home Isolated people." On this blazer, we ran a poll on Twitter where maximum people snapped his white lie like a smoke" Take a look…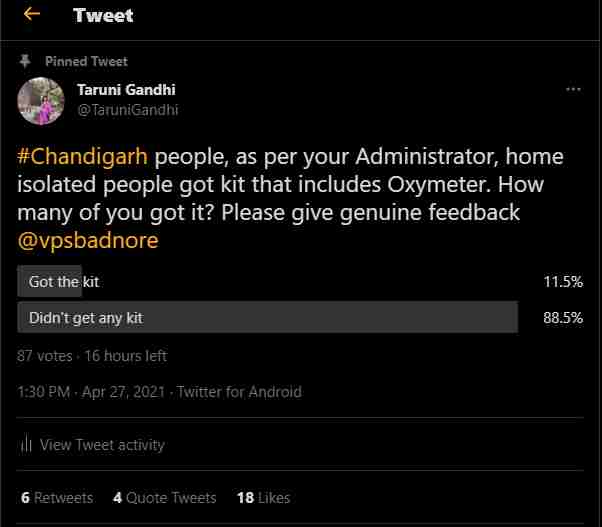 Then this is how Chandigarh People Reacted….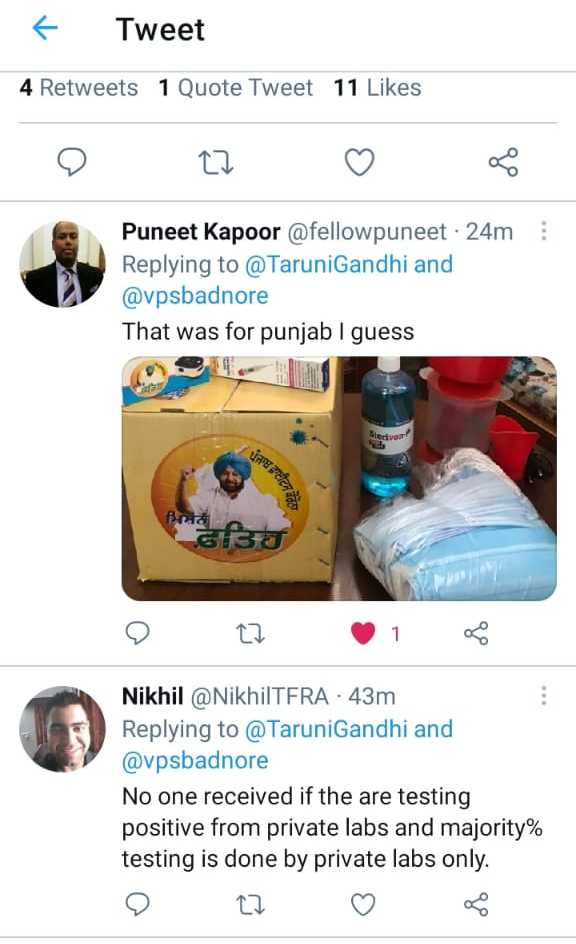 People Showed Punjab Mission Fateh Kits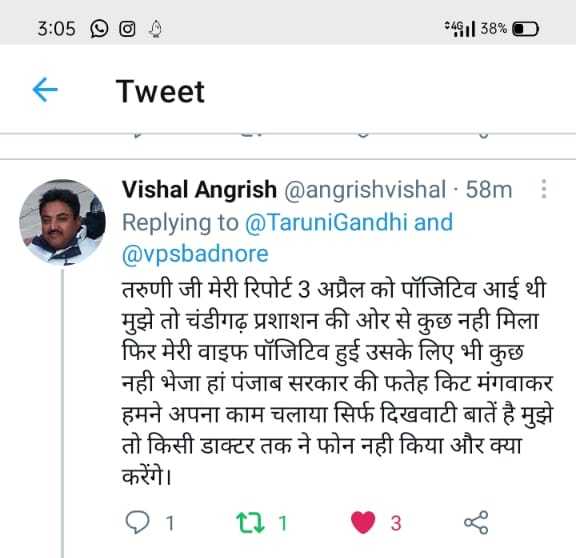 A Media Personnel a senior journalist Vishal Angrish News 24 told his First hand account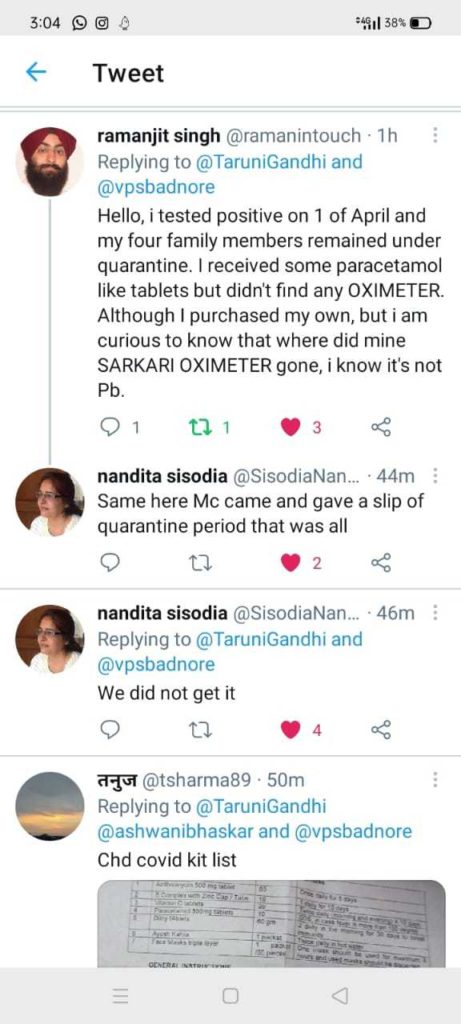 Another Media personnel a senior journalist from Punjab Kesari Ramanjit Singh shared his First-hand account and one of the Twitter account even shared the KIT ingredients list that put the blazer of the Administrator in soil.
When asking a Senior Doctor of City Administration, who has been handling COVID for one year now, he asserted that Administrator is known to those facts that are presented before him after being manipulated and polished. He is just Oblivious to the real state of City. It is not his Administration for which he is getting praise from other states, it is clearly due to PGIMER for which people are coming to Chandigarh for treatment. No one wish to go GMSH 16 where there is no specialist who know how to intubate a patient. GMCH is still doing better but forget Sood Dharamshala, Dhanwantri as these facilities are adding insult to the injury.
Another senior bureaucrat of the city exhorted that Had he/she been got retirement from Government service, he/she would have said it openly way earlier that the Health Department of Chandigarh is a complete failure. They had a full year to collaborate with Private Hospitals but they collaborated/empaneled merely three hospitals just yesterday. They have no plans, how will they execute more beds, how will they control oxygen supply, medicine supply, whereas Punjab already has started doing it far better than Chandigarh.
Both of the above officials are right as the Administrator too had proved them right in his press meet as he came empty-handed with No Plan, No strategy, No real-time data. "The City people are dying and are in Lurch and he is seeking praise, How pathetic one could be", says Manisha Sikka, Sector 16 resident whose father just demised due to COVID.