A day after the killing of a Dera Sacha Sauda follower and an accused in sacrilege cases, Pradeep Singh of Kotkapura, the Faridkot police on Friday claimed that three of the suspects had been arrested by Delhi Police. Those arrested include two teenage boys. All those arrested belong to Haryana. Imagine teenagers as Assassins, get the grip Punjab, before its too late!
After the Gangster Goldy Brar connection was established, the suspects arrested by Delhi Police have been identified as 26-year-old Jitender, a resident of Baniyani village of Rohtak; 14-year-old Mohit Chauhan, a resident of Dhanana village of Bhiwani; and 14-year-old Manish Nandal, resident of Bohar village of Rohtak.
In Moosewala's case, a 19-year-old boy Ankit who shot Moosewala from quite a close range celebrated his heinous act and posted a video on social media. In Dera follower, Pradeep Singh's assassination further surfaced one such dangerous information. This time, this information reflects the scenario where innocent minds are brutally manipulated, turning them into terrorists. Now, one may call it their's inclination towards the gangster world or Gun culture which they found to be glamorous. It could be unemployment/easy money but for infringed minds, it is a game. A game of playing with the Juvenile Act where minors are protected under Juvenile Delinquency Provisions, entailing special protection. Isn't It calls an amendment to Juvenile Act?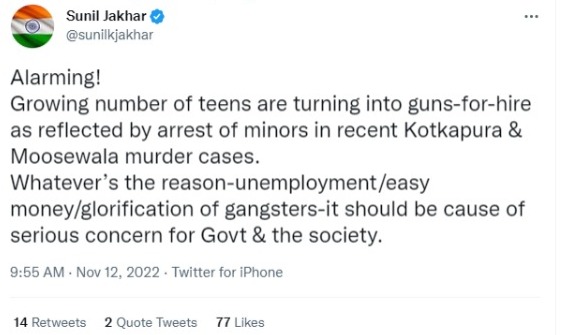 Senior BJP Leader Sunil Jakhar showed his concern on Twitter , "Alarming! Growing number of teens are turning into guns-for-hire as reflected by the arrest of minors in recent Kotkapura & Moosewala murder cases. Whatever's the reason-unemployment/easy money/glorification of gangsters-it should be cause of serious concern for Govt & the society."
The EX DGP of Punjab. ShashiKant shared his views, "Reported arrest of some minors in the recent murder of Pradeep Premi in kotkapura, Punjab, shows a new twist to the strategy of terrorists and gangsters. Now they are now employing minors for murders etc. Maybe in times to come they may start using minors in their other serious nefarious activities. It may be only because minors are generally protected under Juvenile Delinquency Provisions, entailing special protection. About time to amend the act…"
Currently, within a week, two target killings have happened and made the headlines; one is Hindu leader Sudhir Suri and another is Bargari sacrilege-accused Pardeep Singh. Before this, Sidhu Moosewala's target killing; kabaddi player Sandeep Nangal Ambian was shot dead in Jalandhar on 14 March, and Dharminder Singh was killed in Daun Kalan of Patiala on April 6. Sportsmen were killed on the instructions of Canada-based gangsters. These gangsters have further links with Khalistani terrorists and ISI in Pakistan.
Mata Kali Devi Mandir incident, Himachal Khalistani flag march to Khalistan slogans written over the walls of government offices. Be it an RPG attack on the Intelligence Bureau office in Mohali or Chandigarh University case, all these cases still stand inconclusive.
In the case of Sudhir Suri and Dera follower Pardeep Singh, co-incidentally, police security was present at the spot. The law and order situation in Punjab is continuously deteriorating. Dera lover Pradeep Singh, accused in the Bargadi sacrilege case, was shot dead on Thursday morning. In this case, yet again, gangster Goldy Brar has claimed responsibility for the murder. In Suri's case, Khalistani terrorist Lakhbir Landa took responsibility on social media for the killing.