Yes, Bureaucratic ugly ego clashes on O2 could have put Chandigarh in Dark. A few days Adviser to UT Administrator Manoj Parida patted his Ex-Chief Engineer to have created three oxygen plants within a challenging time limit and today this oxygen fight exposed the UT administration's mismanagement. UT Administration on Saturday hammered PGI Oxygen supply from Dera Bassi-based Anesthetic Gases Pvt Ltd. This further turned into a clash between PGI and UT Administration. Statements over statements, further again exposed mismanagement of UT Administration.
This is to inform that reference communication received from Anesthetic Gases Pvt.Ltd, Dera Bassi, PGIMER's vendor for supply of Mo2 'B' type cylinders, has been informed to PGIMER authorities that they have been directed not to supply 'B' type Medical Oxygen gas cylinders to PGIMER till further instructions. As per the information received, this was directed by a team from Chandigarh Administration headed by Mr. Yashpal Garg, Mr. Jasjit Singh, Director of industries Chandigarh, Mr.Manjit Singh Nodal Officer Chandigarh & other senior officials during their visit to Anesthetic Gases Pvt. Ltd, Dera Bassi, today.

Considering the COVID-19 patient load herein PGIMER and the incessantly increasing demand of medical oxygen, this kind of directive can lead to further panic in the already catastrophic situation. Therefore, PGIMER leadership immediately flagged the issue to the higher authorities and expects an immediate redressal to the issue to avoid turning the already pressing situation into a crisis.

PGIMER has been designated as the COVID Hospital of UT Chandigarh and is allocated a quota of 20 MT Oxygen per day to meet its requirements. As on date, we at PGIMER have already reached the consumption of 20 MT per day in view of the consistent surge in the patient load of COVID 19. Therefore, it may not be possible to increase the COVID bed strength in PGIMER in case the oxygen allocation is not enhanced with immediate effect.

PGIMER STATEMENT

The UT Chandigarh has been assigned a total quota of 40 MT oxygen which includes 20 MT oxygen exclusively for PGIMER. Rest 20 MT oxygen is for Government Hospitals of UT Administration and all the Private Hospital in Chandigarh.

Out of 20 MT Quota of oxygen, about 17 MT oxygen is directly used in the GMCH-32, GMSH-16 and Hospital Sector-48. Remaining about 03 MT is given to a Private Vendor in Derabassi to re-fill oxygen cylinders of Government Hospitals of UT Administration and Private Hospitals in Chandigarh.

Today a team of senior officers of the Administration visited the oxygen re-filling plant at Derabassi. Despite clear instructions to the vendor that the quota provided to be used for specific hospitals, it was observed that some of the cylinders of PGIMER were filled without any permission from UT Administration. This was in gross violation of the directions of the Chandigarh Administration. The Private Vendor was directed to use the 20 MT oxygen Quota for the specific hospitals only and for filling of cylinders of PGIMER, the oxygen may be supplied by PGIMER out of its exclusive quota of 20 MT. Hence directions given were completely in accordance with the designated use of the Quota of Oxygen to avoid any disruption of supply of oxygen cylinders to Government and Private Hospital in Chandigarh.

Chandigarh Administration Statement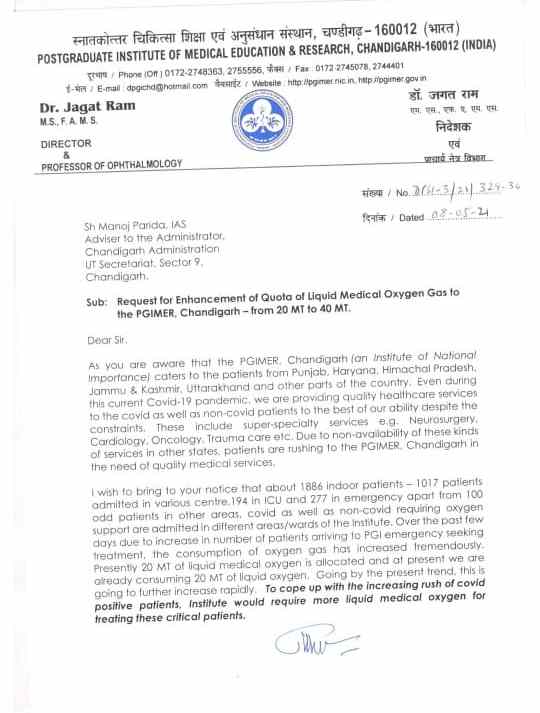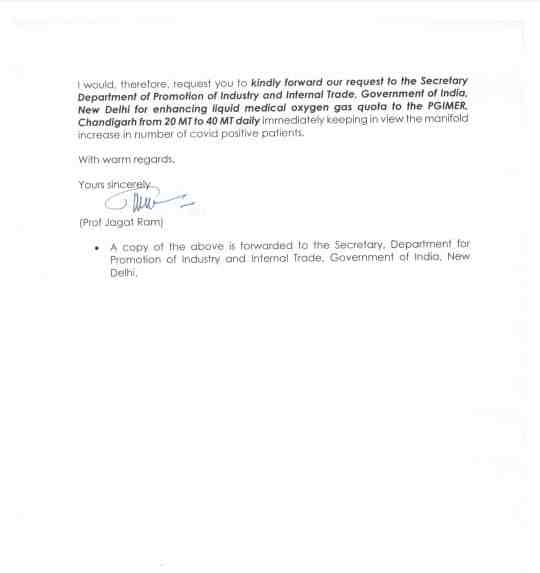 PGI Experts always plan prior and has already sent a request to Government of India seeking future crisis. They already have written to the Ministry and UT Administration.
"Oxygen situation OK in Chandigarh. The oxygen generator plant has started functioning in GMSH16, 95 percent purity at 4.5 bar pressure. 500 litre per minute capacity. Another functional at GMCH32, 1000 litre per minute", Manoj Parida released this statement on 22 April only. As per the release, GMCH 32 hospital's 50 percent oxygen supply could be easily met with this plant. So the need for Oxygen cylinders has decreased as told by Director Principal Dr. Jasvinder Kaur at that point of time a few days ago.
Because there has no planning been done by the Health Department in last one year, now UT Administration trying saving its skin by asking donations from City people/philanthropist for opening Mini Covid Centers without any future Clinical planning. Even an Army has to call for managing city govt hospital along with the International Hostel of Panjab University. "It is clear mismanagement of self-obsessed, the short-sighted UT Administration and its Egoistic, high headed Bureaucrats that city people are in Lurch in this taxing times and now they are trying harm PGI just to blanket their failure", says a Senior EX bureaucrat of Chandigarh Administration.
ADMINISTRATOR CAME TO RESCUE OF PGI
After this the Administrator VPS Badnore came to rescue of PGI while tweeting that PGI is life saver and he assures no oxygen shortage ever happen in PGI.