Wretched CM your 140 Punjabis are admitted to PGIMER currently. Yes, In these taxing times, when everyone in society is trying their hard to help each other, Punjab Chief Minister suddenly turned oblivious to its own people of Punjab. These are severely sick Punjabis who are admitted to PGIMER and Captain Amarinder Singh stopped Oxygen supply to PGIMER two days back where Punjab's 140 severely sick patients from different districts are getting treatment of COVID.
Blaming PGIMER on the issue, CM Captain Amarinder Singh has often been told by its officials that PGIMER is not admitting Punjab's patients and then stopped the supply of 70 oxygen cylinders last Friday from Mandi Gobindgarh. "Though this is said that there is a scarcity of oxygen in Punjab yet Chandigarh being the Capital of Punjab and PGIMER being the regional premier institute should not be refused this life-saving medical oxygen. PGIMER used to procure 7000 Litres of Medical Oxygen from Mandi Gobindgarh", says a Senior Bureaucrat of Punjab who recently got a treatment of COVID from PGIMER.
We Collected some data of patients who are currently admitted to the PGI Covid Ward. There are 140 Patients which is 39 percent of the total patients admitted to COVID hospital of PGIMER. In the whole year since the onset of COVID, there have been 2022 patients from PUNJAB.

Heres the list of Patients with their CR No who are admitted in PGIMER currently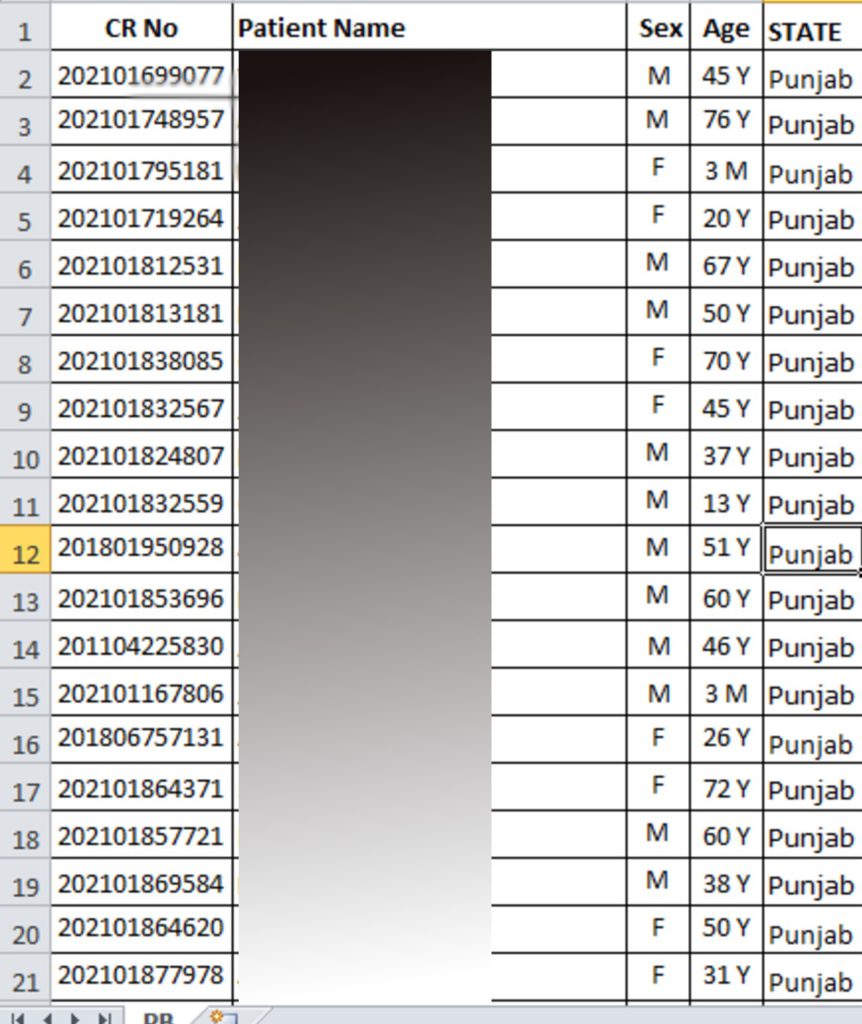 As PGIMER handled a maximum of Punjab patients since covid onset, there are also Non-covid patients from Punjab who are also admitted in PGI and require Oxygen. "PGIMER does not admit patients on the basis of their domicile, here patients get admission on the basis of their level of illness. There is no point in entering into the blame game, we all are into war right now and It is not certainly expected from Punjab Government that they would stop the oxygen supply of PGIMER when every third official of them rush to PGIMER for treatment and PGIMER is for everyone irrespective of Domiciles", says a senior professor of PGIMER.
As of now, the institute transports about 50-odd oxygen cylinders, each with a capacity of 7000 litres each, from Mandi Gobindgarh. The hospital administration said though the quota for liquid oxygen has been fixed by the government, supply coming from a PSA plant in Punjab is not part of it. Due to the heavy inflow of patients, PGI has been requiring oxygen over and above the fixed quota of 20MT of liquid oxygen. An increase in demand prompted it to get an additional supply of gas from a private vendor at Mandi Gobindgarh.
"We are already consuming 20 MT of liquid oxygen, but there are areas where oxygen points are not there and oxygen cylinders have to be used. Our vendor in Gobindgarh makes oxygen using atmospheric gases and then it is filled in cylinders. There are no directions by the government of India pertaining to this and oxygen made through air can't be stopped at inter-state borders," said the Hospital Administration adding further that though they released the cylinders coming last night, they have stopped further supply. We have taken up the matter at the level of our Director. We should not be denied oxygen because we are catering to patients from all states, including Punjab. We don't know how to manage further."