M4PNews|Hyderabad
In a major crackdown on contract marriages racket involving old Arab sheikhs "marrying" local teenage Muslim girls, Hyderabad Police raided several guesthouses and lodges and arrested five Oman and three Qatar nationals, who were camping in the city to "marry" teenage girls.
Two of them are in their 80s and walk with the help of sticks and walkers. "They were in the process of "interviewing" more than 20 minor girls when the raids were conducted at various guesthouses," Police Commissioner M Mahender Reddy said. Cops also arrested the chief qazi of Mumbai Farid Ahmed Khan who was issuing marriage certificates for contract marriages performed in Hyderabad for Rs 50,000 each.
Two other local qazis who performed fake marriages recently have also been arrested. Cops sealed several residence-cum-guesthouses in Falaknuma and Chandrayangutta area. In an elaborate operation that was started after the arrest of an Oman national on August 17 for marrying a minor, cops kept a watch at the Hyderabad Airport for sheikhs arriving from the Middle East in recent days. They followed these eight men to the various lodges and guesthouses where they checked in. As cops watched, several brokers including some women visited them and brought the girls for "interviews". After gathering enough evidence, cops started raids last night.
South Zone Police raided one private guesthouse in Chandrayangutta area just in the nick of time and rescued a 15-year-old girl who was about to be married to a 70-year-old Omani Al Mayahi Ali Issa. The raids, which started last night, were still going on.
Cops arrested Al Mayah Ali Issa, Al Salehi Talib Humeid Ali, Al Ubaidani Juma Shinoon Sulaiman, Al Salehi Nasser Khalif Hamed, Al Qasimi Hassan Mazaaul Mohammed (all from Oman), and Omer Mohammed Seraj Abdal Rahman, Hamad Jabir o Al-Kuwari,and Safeldin Mohammed Salih (all from Qatar).
"They were in the process of selecting young girls to enter into fake marriage agreements. Brokers were bringing the girls to the guesthouses where the eight men were staying and displaying them. They have been arrested along with three brokers and three qazis who were paid to perform the marriages. The brokers have promised the girls' parents if the sheikhs select their daughter for marriage they would pay Rs 1 lakh. The brokers take Rs 2 to 3 lakhs," said Assistant Commissioner of Police of Falaknuma Division Mohammed Tajuddin Ahmed.
"The raids are based on our investigations into the August 18 incident when another Oman national was arrested for marrying a 17-year-old," he said.
Besides the eight men who have been arrested, cops took into custody several sheikhs found living in lodges. At the FK Lodge, cops found Al Sheyadi Sulaiman Khamis Salim who is also from Oman. He told police that he came to Hyderabad to marry a young girl. He came with his son and a friend.
In another lodge, cops found 80-year-old blind sheikh M Abdullah who admitted that he came for a contract marriage; he would have left the bride after three weeks and returned to Muscat.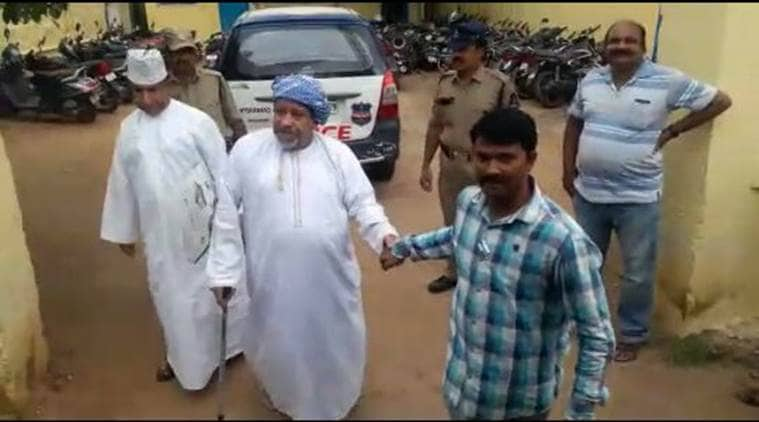 South Zone Deputy Commissioner of Police V Satyanarayana said they have identified at least 15 Hyderabadi brokers who live in Oman and Qatar and make contact with sheikhs there who are in search of teen brides. "These brokers help the sheikhs get in touch with families of girls here and deals are struck after which the sheikhs come to Hyderabad. There are several women whose main job is to identify poor families who are interested in giving away their daughters in the name of marriage for money without bothering about the age and intention of the groom. In cases where the sheikhs arranged visas and took the newly-married girls with them, the girls end up getting exploited by several others. A few victims we have interviewed have themselves told women police about it," he said.
Among the 35 Hyderabadi brokers cops have identified so far, 25 are women. Police said brokers not only identify and keep the young girls ready for marriage but also offer various packages. In brokers' parlance 'Shaikh' is a rich Arab who is willing to pay a lot of money for a teenage bride and would like to stay at a decent hotel and hire luxury cars. "Ambassador carwala" is not willing to spend too much, will hire a normal car and stay in a lodge or guesthouse. "Autowalla" is one who prefers to stay in cheap rented rooms and travel in autorickshaws.
The packages — from arranging meetings with girls to accommodation to marriage — range from Rs 3 to 10 lakhs.
Cops arrested five brokers who were bringing the girls to the rooms of the sheikhs. Mohammed Asif Mohammed, who had converted his house at Kalapather into a plush guesthouse and was inviting sheikhs to visit and meet young girls for marriage, was also arrested.
Two Qatari sheikhs were arrested from this guesthouse. Raids were conducted on residential apartments, which have been converted into guesthouses including FK Plaza, Ghalib Residency, MJ Anas Guesthouse, and Wincity Developers in Chandrayangutta.