Unless it is personal to some official, Chandigarh Adm does not pay heed to their official entities, be it their heritage, heritage-related items, their name, or their emblem.
Call it destined for Chandigarh that its official caretakers would not pay heed to the issues that protect the improper use of heritage. Why Chandigarh Adm is so oblivious to its own emblem. Is UT Administration happy to remain oblivious to the state issues? This time a Cider company based from the north of Port Perry, Ontario, Canada used Chandigarh's Open hand emblem on their Cider Bottles. Hence, the Emblems and Names (Prevention of Improper Use) Act, 1950 again go unseen and violated. Earlier, few months before a liquor company placed Open Hand Emblem on their bottle and even advertised on the Roundabout of Chandigarh. Later, they apologized and removed the hoardings once the matter blew in a Hindi National Daily.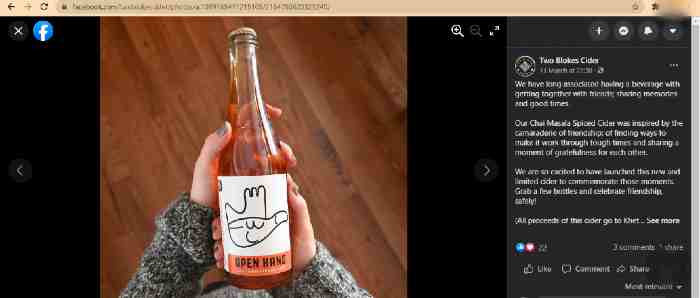 This time, a cider company of Canada that claims to have collaboration with Kheti virasat uses Chandigarh Union Territory official Emblem on their bottles. And UT Administration as usual is oblivious to the matter again. We had word with Ajay Jagga, Senior Advocate and Member, Heritage Protection Cell, Chandigarh, while showing his concern he exhorts The Open Hand symbol was designed by Le Corbusier, while working under Government of India. Thereafter it was being used everywhere on government printed material. AS on today the City is strongly known by open hand, world wide. Infact Pierre Jeanneret, cousin of Corbusier was also associated with this being the Chief Architect and Town Planning Advisor.  This symbol is also being made regularly in Burail Jail and is available, apart from other places, at SRIJAN, in Sector 22, Government Shop.
Jagga says further that The symbol is quite popular and all the international tourists who visit Chandigarh, generally prefers to buy this from the city from places like souvenir shop or SRIJAN. The symbol is undoubtedly the Intellectual Property of the Administration and needs to be protected by getting its copyright and/or design protection the I.P. Laws. Although the mandate from MHA is that emblems are National Emblem only and the same has to be adopted by all States and UTs. But there is no conflict, that emblem is a separate issue and this intellectual property is a separate issue. This issue has come up in the past many times but perhaps, the final decision/action was not taken. Now since its misuse has started, so the Administration should take it seriously and get in touch with the Ministry of Commerce for getting the copyright of this and/or protection of this design. If not done, soon this too will find a place in the international auction houses, fetching huge money.
Explaining further he exhorts that Infact intellectual property is not a very serious subject in our country and that's why such things as misuse of our intellectual property are taking place, very often. Similarly, New Chandigarh came up on the periphery. Chandigarh University and World Trade Centre Chandigarh, are also in violation of the Emblems and Names (Prevention of Improper Use) Act, 1950 and are the biggest glaring violations regarding misuse of the name of Chandigarh but since no objections are being raised, the misuse of our intellectual property continues and now use of open hand symbol on the Liquor Bottles is another misuse but unless owner protects its property and objects and then files legal claim against misuse, these things will continue. The question is not that whether it's the official logo or symbol or not, the thing is that it is intellectual property, has huge value, and has an owner i.e. Chandigarh Administration, which it needs to protect. Removal of the name of Chandigarh from the Airport is still not fully dead.